You are a student in biology and would like to become a researcher in the biomedical field?
You are working in the field of biology and are interested in improving your skills and enhance your carrier?
You want to learn more about disease mechanisms and therapeutic options for human and non-human disorders, you want to contribute to major improvements in biomedical research and better understand intimate functions of the cells using modern technologies (next generation sequencing, correlative high resolution microscopy…)?
The Bachelor in Biomedical Research is for you!
Aims
This certificate grants the title of scientific research assistant (chargé d'expériences en recherche scientifique) in applied and/or fundamental research laboratories in the field of health and medical research. This gives them access to assistant engineer positions in research laboratories or facilities in academic institutes or in pharmaceutical companies. They are expected to set-up, perform and analyse the results of experimental procedures. They are integrated in a research or facility team and follow the scientific and technological improvements through bibliographic analyses and contacts with suppliers.
Major aspects of this certificate
Possibility to pursue university studies at the Master level (in particular with the Ecole Pratique des Hautes Etudes university: https://www.ephe.fr/)
Up-to- date lectures on new technologies used in research laboratories
Large number of host laboratories (PASTEUR institute, CURIE institute, ICM, Cochin institute…)
High level of expertise of all lecturers and lab mentors, all actors of the academic research
Strong involvement of the lecturers into courses, tutorials, seminars, advices/tutoring
Progressive integration in the host laboratory
A bachelor highly appreciated by professionals for more than 30 years
Admission
A 2-years post-graduate degree obtained in French universities or in Institutes of Technology in biology,biochemistry, biotechnology, medical analyses (BTS ABM, BTS BC, BTS BT, DUT BGB, DETLM) or equivalent
Or a real experience in scientific research (evaluation by a committee of experts)
Laboratory training
A training period of 26 weeks (3 main periods) in a research laboratory is required. In France, this period is subjected to specific allowance according to the French law. The rules applicable in the country where the training period is performed have to be followed. Transportation and accommodation fees in Paris during the lectures are taken in charge by the student.
Pursuit University studies
The teaching programme allows students to continue in Master of Biology
Scolarship fees
4200 euros (2200 euros often taken in charge by the host laboratory, but subjected to negotiations between the student and the host institution)
Document to download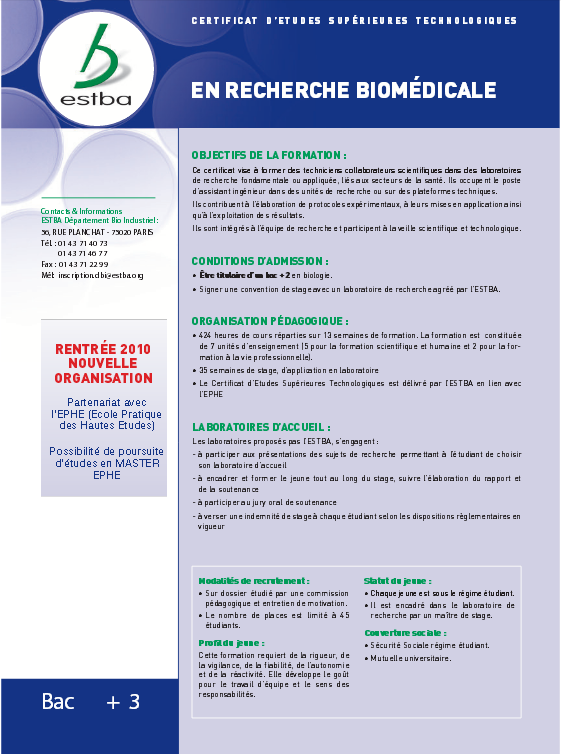 > Chargé d'Expériences en Recherche Scientifique (pdf)
> Student testimonials (in French) (pdf)
Information about careers possible with this certificate (in French)
Assistant engineer INSERM, (click into the video)